Hoverboards and glideboards generally come in three different sizes, and you'll want to be sure to get the correct size for your body. What is the best hoverboard for adults? Well, different sized hoverboards also have different weight tolerances, so depending on how much you weigh, hoverboard size can be a concern as well. Lastly, the size of the footpads varies from size to size. The size of the hoverboard is denoted by the wheel diameter. Here are the standard hoverboard sizes:
6.5 inch wheel diameter hoverboards – Best for kids
8 inch wheel diameter hoverboards – Great for teenagers and smaller adults
10 inch wheel diameter hoverboards – Best for most adults
Here are some of the best hoverboards for adults:
Segway miniPro Self-Balancing Personal Transporter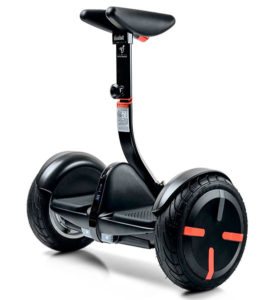 This is a brand new item in the hoverboard market, made by Segway. The miniPRO takes the transportation of a hoverboard to the next level. Made specifically for adults, this is more than just a hobby piece to ride around in the park. The miniPro is great for short distance commuting to work or a quick trip to the store. The padded knee bar helps you steer the electric scooter, allowing for more accurate and ergonomic steering than normal hoverboards that rely solely on foot-pivot steering. That makes it easier to learn and safer to operate.
To make the miniPRO even smarter than a regular hoverboard, it is Bluetooth enabled to connect with a free companion app for your smartphone. The app allows you to control the transporter remotely, set speed control, program customizable lights, run vehicle diagnostics, and also has an anti-theft alarm. The miniPRO was the first two wheel self-balancing transporter to receive the UL 2272 Certificate, meaning it meets all government safety regulations.
Available colors: black, white
Notable features: max speed: 10 mph, range: 14 miles, 1600 watt dual motor engine, padded knee bar for precision steering, can carry up to 220 lbs., aircraft grade magnesium alloy frame, Bluetooth mobile app, customizable LED safety lights, anti-theft security alarm
---
---
EPIKGO All Terrain Self Balancing Scooter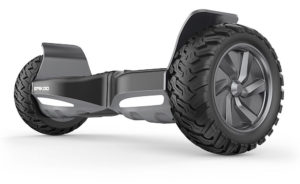 Now this is a hoverboard that really stands out from many of the cookie-cutter models available currently. The EPIKGO is the first all-terrain hoverboard. While most two wheel electric scooters marketed for teens and adults are great for riding on the sidewalk or in the street, this scooter goes almost anywhere. Built with solid rubber tires and made 30% larger than other hoverboards, you can ride this board through grass, mud, and sand. The splatter guards protect your legs from getting muddy.
Made by a US company based in Silicon Valley, the EPIKGO has all the required safety certifications and has actually built a better battery. It charges in only 2 hours and is advertised to be 2x as powerful as competing products. If you're just looking for a hoverboard to ride casually or a transport to play Pokemon Go, then you can buy any model. But if you're looking for a scooter that can do more and go more places, the EPIKGO is for you.
The first reviews from users are extremely positive (at the time of this writing, the EPIKGO has all 5 stars ratings on Amazon). Customers say it's very durable and stable, easy to ride, and has fantastic battery life. Some of the reviews have videos so you can see the board in action.
Comes with a 1 year limited warranty.
Available colors: space gray, rose gold, elite silver
Notable features: UL 2272 Certified, 400W Dual Motors, climbs 18-degree slopes/hills, 10 mph top speed, rides for 1 hour on single charge, 8.5″ solid rubber tires, water resistant, 2 hour fast charging, aluminum alloy body frame, front and rear lights
---
Hoverzone Self Balancing Hover Board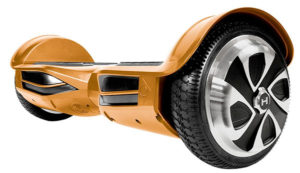 Looking for a hoverboard for adults that seems a little less "professional"? The Hoverzone meets all the size requirements for an adult in a cool design and also comes in 6 awesome colors, including gold (pictured). To make it even more fun, it has front and rear LED movement indicator lights, which look cool but are also an added safety measure for night riding. If you want to enjoy your music while you ride, the Bluetooth speakers will blast your favorite tunes.
This hoverboard is great for getting around, riding in the park, or trying out some cool hoverboard tricks. With Hoverzone, you don't have to worry about safety. In addition to a Ul2272 certification, their hoverboard is made from a fireproof exterior casing. They've also improved the pedal sensors by making them wider with an anti-slip material, so it's easier for adults to ride and control. The 2 speeds make this a great starter hoverboard for newbies, but still fun for advanced pros. The smart battery management system gives you better battery performance and the LED battery indicator lets you know when you need to recharge.
Available colors: black, blue, garnet, gold, pink, white
Notable features: Ul2272 Certified, anti-slip pedal sensors, fireproof casing, built-in Bluetooth speaker, front and rear LED movement indicator lights, smart battery management system, two speeds
---
Razor Hovertrax 2.0 Hoverboard
Razor brings their brand name and high quality recreation equipment to hoverboard with the Hovertrax 2.0. Featuring a 350-watt moter and a safety certified 36V lithium ion battery, the Hovertrax is safe and easy to ride. It has all the features most adults look for in a hoverboard: there is a training mode for new riders, along with an LED battery indicator. In addition to its cool design, the Hovertrax 2.0 also features LED lightbars, which look cool and provide safety lighting when you're riding at night.
The Hovertrax is perfect for smaller adult riders and young adults, with a 6'5″ wheel size that is easy to maneuver. This model is also a great choice if you want to buy a hoverboard that everyone in the family can ride.
Available colors: black, blue, white
Wheel Size: 6.5″
Max Speed: 8 mph
Max Distance: 60 minute ride time
Notable features: UL 2272 certified, supports riders up to 220 lbs, Everbalance technology, 2 riding modes, LED light displays, LED battery power indicator, cruising speed 8 mph
---
Skque 10″ Self Balancing Scooter for Adults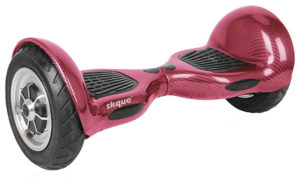 Who said hoverboards for adults need to be boring? This 10″ self-balancing scooter from Skque is sized perfectly for an adult, with nine different color options, including awesome patterns like red flames, graffiti, and splatter.
This glideboard comes with a remote control and a charging cable. Charging time is less than 2 hours and gives you a riding range of 11-15 miles. This hoverboard is perfect for short distance commutes, riding in the park, or to get around faster while playing Pokemon Go. The Skque also comes with a manual to easily setup and learn how to ride your new hoverboard.
Available colors: burgundy, carbon red, black, white, red, carbon, red flames, graffiti, splatter
Notable features: UL2722 safety certification, max weight: 264 lbs, max sped: 6.2 mph, ride distance: 11-15 miles, charing time: 1-2 hours, 10 inch wheel size, remote control,
---
---