Ever since hoverboards were banned in 2015 due to patent issues and safety concerns related to batteries, people have been wondering "Where can I buy a hoverboard?" or "Can I buy a hoverboard online?" Now in 2021, hoverboards are available again in the USA. These new hoverboard models are safer than the ones available previously, as they all have to receive a federally mandated UL 2272 safety certification mark. (You can read all about these safety standards here.)
While there are only a limited number of models and brands available currently, we expect that more companies will be producing safe and UL approved hoverboards, glideboards, and hands free self-balancing electric scooters by the end of the year. We will keep updating our site as new options become available. Check out the current offerings below.
Our safe hoverboards comparison chart will give you an overview of our recommendations. The next section includes our in-depth reviews of each model.
2020 Safe Hoverboards Comparison Chart
Check out our comparison chart for safe hoverboards. If you want to read our in-depth review of each hoverboard model, scroll down to the next section.
| Name | Photo | Rating | Wheel Size | Features | Buy |
| --- | --- | --- | --- | --- | --- |
| Swagtron T1 | | | 6.5in | Max Speed 8mph, Range 12 Miles, Learning Mode, 30 Degree Slope Climb, LED Headlights, Sentry Shield Battery | |
| Segway Ninebot S | | | 10.5in | Max Speed 10mph, Range 14 Miles, Padded Knee Bar, Max Weight: 220 lbs., Bluetooth App, LED Safety Lights | |
| Hoverzon | | | 6.5in | Max Speed 8mph, LED Safety Lights, Bluetooth Speakers, Smart Battery Management System, Fireproof Casing | |
| Razor Hovertrax 2.0 | | | 6.5in | Max Speed 8mph, 60 Min. Ride Time, LED Safety Lights, Everbalance Tech | |
| Hover-1 | | | 6.5in | Max Speed 7mph, 12 mile distance, LED headlights | |
Want to compare all of the hoverboards we've reviewed? Check out our Hoverboard Comparison Chart.
---
Safe Hoverboards for Sale in 2020
Swagtron T1 Hoverboard
This self-balancing scooter is great for kids or adults. It features aluminum wheels and non-slip foot pedals for a safer ride. It can reach speeds of up to 8 mph and has a range of 12 miles. If you're new to using a hoverboard, the Swagtron features a learning mode that teaches you the basics of safe, hands free riding.
As far as battery safety goes, it features Smart Battery management which prevents the battery from overcharging or overheating during use. This is a great personal transporter for running errands, going to school, doing tricks, or just riding for fun. With six colors available, you should easily be able to find one for everyone in your family.
Available colors: black, blue, garnet, yellow, pink, white
Wheel Size: 6.5″
Max Speed: 8 mph
Max Distance: 12 miles
Notable features: UL 2272 certification, LED headlights, 2 riding modes, 300 watt dual electric scooter motor, lithium ion battery, 2-3 hour charge time, LED headlights, rubber bumpers, Sentry Shield battery protection, max weight 220 lbs., 1 year warranty
---
Segway Ninebot S Smart Self-Balancing Electric Scooter
This is a brand new item in the hoverboard market, made by Segway. The S takes the transportation of a hoverboard to the next level. Looking at it, you may be wondering about that bar in the middle. The padded knee bar helps you steer the electric scooter, allowing for more accurate and ergonomic steering than normal hoverboards that rely solely on foot-pivot steering. That makes it easier to learn and safer to operate.
To make the S even smarter than a regular hoverboard, it is Bluetooth enabled to connect with a free companion app for your smartphone. The app allows you to control the transporter remotely, set speed control, program customizable lights, run vehicle diagnostics, and also has an anti-theft alarm. This is truly a transporter from the "future." The original verison of the S, the miniPRO was the first two wheel self-balancing transporter to receive the UL 2272 Certificate.
Available colors: black, white
Wheel Size: 10.5″
Max Speed: 8 mph
Max Distance: 13.7 miles
Notable features: max speed: 10 mph, range: 14 miles, 1600 watt dual motor engine, padded knee bar for precision steering, can carry up to 220 lbs., aircraft-grade magnesium alloy frame, Bluetooth mobile app, customizable LED safety lights, anti-theft security alarm
---
Hoverzon Self Balancing Hover Board
Hoverzon has a cool and slick model available. It comes in 6 awesome colors, including gold (pictured). To make it even more fun, it has front and rear LED movement indicator lights, which look cool but are also an added safety measure for night riding. If you want to enjoy your music while you ride, the Bluetooth speakers will blast your favorite tunes.
Hoverzon is taking safety seriously. In addition to a Ul2272 certification, their hoverboard is made from a fireproof exterior casing. They've also improved the pedal sensors by making them wider with an anti-slip material. The 2 speeds make this a great starter hoverboard for newbies, but still fun for advanced pros. The smart battery management system gives you better battery performance and the LED battery indicator lets you know when you need to recharge.
Available colors: black, blue, garnet, gold, pink, white
Wheel Size: 6.5″
Max Speed: 8 mph
Notable features: Ul2272 Certified, anti-slip pedal sensors, fireproof casing, built-in Bluetooth speaker, front and rear LED movement indicator lights, smart battery management system, two speeds
---
Razor Hovertrax 2.0 Self-Balancing Smart Scooter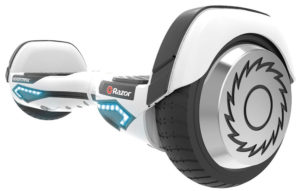 Boasting the "world's smartest self-balancing electric scooter," Razor's Hovertrax is back on the market with this new version. It meets all of the latest electric safety standards with the quality you expect from Razor's scooters. Their big selling point is the Everbalance technology, which automatically levels the hoverboard to make it easier to mount and ride. It also has two riding modes built in: regular and training, making this one of the easier hoverboards to learn to ride.
The Hovertrax works indoors and out, great for riding down the street or doing tricks in the park. There are also safety features built in like LED lights, anti-slip rubber foot platforms, and a shatter resistant polymer frame. Built for riders age 8 and older, this is a perfect option for teens and adults.
Available colors: black, blue, white
Wheel Size: 6.5″
Max Speed: 8 mph
Max Distance: 60 minute ride time
Notable features: continuous run time 60 minutes, supports riders up to 220 lbs, Everbalance technology, 2 riding modes, LED light displays, LED battery power indicator, cruising speed 8 mph
---
Hover-1 Ultra Hoverboard
If you want a hoverboard that is affordable and reliable, the Hover-1 is a great option. While the Hover-1 Ultra doesn't have flashy features like Bluetooth speakers or wheel lights, it has all the required safety testing and certifications. Stay visible thanks to the LED headlights when you're cruising in the park or on the street.
With 6.5″ wheels, this model is a great size for kids, teens, and adults to ride. Great for casually riding, the 12-mile range is also good for short commutes or cruising around campus.
Available colors: black, blue, pink
Wheel Size: 6.5″
Max Speed: 7 mph
Max Distance: 12 miles
Rider Weight Range: 44 to 220 lbs.
Charging Time: 4 hours
Notable features: UL2272 certification, LED headlights, 17 degree climb
---
Now that you're buying a hoverboard or self balancing electric scooter, don't forget to check out these other helpful articles to gear up, pimp out your ride, and be even safer:
Still not sure you want to buy a hoverboard? Check out these safe hoverboard alternatives.