As hoverboards are increasingly banned in cities across the world and their sales restricted in the USA, many hoverboard enthusiasts are looking for alternatives. Maybe a loved one had a hoverboard on their wish list and you need a different gift idea. Many of these gifts give the same outdoor fun and excitement that's achieved with a glideboard, without the high price tag or the safety concerns.
Here are some cool and fun hoverboard alternatives:
Safe Hoverboard Alternatives
Razor E90 Electric Scooter
Scooters are a fun alternative to hoverboards, especially for kids. If you're looking for an electric motor to go with your scooter, you're in luck. Razor makes many models of electric scooters in a variety of colors. Made with a sturdy steel frame, the electric scooter features a rechargeable 24V battery that allows for 40 minutes of continuous run time at speeds up to 12 mph. One of the plus sides of these scooters over hoverboards is if you run out of battery, you can still use the scooter by foot power.
Other features include a chain driven motor, 8″ pneumatic tires, a retractable kickstand, and a battery charger.
---
Ripstik Caster Board
If you're looking for more of a skateboard like experience, a Ripstik Caster Board is the perfect substitution for a hoverboard. This awesome board from Razor combines the experience of surfing, snowboarding, and skateboarding into one experience. The Ripstik uses a twisting motion to propel you forward, eliminating the need to push with your foot like you would on a skateboard. Built with only 2 wheels, you can make 360-degree turns and even propel yourself up hills.
Available colors: red, blue
Notable features: 76 mm polyurethane wheels, ABEC-5 Bearings, spiked traction pads, good for children 8 years+, supports up to 222 lbs
---
Orbitwheel Skates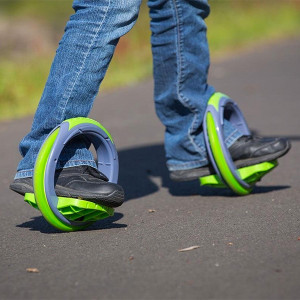 These portable transports look like something out of the future, like the type of roller skates George Jetson would use. Orbitwheel is two wheels, one for each foot. They work separately, giving you the freedom of rollerblades with the thrill of a skateboard. By moving your legs in a wave-like motion, the Orbitwheels are self-propelling, eliminating the work of simple skating. The tricks and maneuvers you can perform with Orbitwheels are more amazing and complex than anything you could achieve with a hoverboard or simple roller skates.
Available colors: green/blue, black/red
Notable features: self powered, good exercise, portable and compact design
---
Turnado Ride-On
If you want to give your kid racing fun without the risk of falls that a hoverboard brings, this is a great alternative. This one is really meant for kids or teens though because the Turnado has a max weight limit of 150 lbs. The Turnado is a four-wheel ride on that sits low to the ground like a go-cart or dune buggy. It's designed to race and do tricks, with torque steering to do sharp turns, twists, drifts and spins. Any kid or teen who loves going fast and doing tricks will enjoy the Turnado.
One of the major downsides of this vehicle is the charge time. It takes about 8-12 hours to charge and then only provides 30 minutes of ride time. So you basically have to charge it overnight just to enjoy it for half an hour. If you want more ride time, you're better off buying a hoverboard for kids.
Max Speed: 12 mph
Max Distance: 30 minute ride time
Notable features: Ages 8 and up, max weight 150 lbs., charge time 8-12 hours, angled caster wheels, pneumatic wheels, 24-volt battery
---
Power Wheels Wild Thing
The Wild Thing is a fantastic hoverboard alternative for kids, especially those with disabilities that make it difficult or impossible to use a standing hoverboard. This a three wheel vehicle that's control by dual joysticks, which allows the vehicle to go forward, backward, and do 360 degree spins. This thing is designed to be tough, it has all terrain tires so it can go off road, perfect for riding in the yard or in the park.
Though the Wild Thing doesn't got that fast (top speed is 5 miles per hour), there are parent control speed settings under the seat so you can customize the max speed for your child. This is a fun and sturdy alternative for outdoor fun for kids.
Available colors: orange, green, pink
Max Speed: 5 mph (2.5 mph in reverse)
Notable features: Age 5 years and up, parent-controlled speed settings, durable multi-terrain tires.
---
RocketSkates
If you're looking for something that will make you feel like Iron Man, check out these RocketSkates. They come with two skates that you strap into like a snowboard and can support up to 275 lbs on its fiber-reinforced nylon frame. They're easy to use: tilt forward to accelerate and tilt backward to brake. You can also walk up stairs while still wearing them! Note: these are recommended for ages 16+, so Orbitwheel Skates may be a better option for younger riders.
Features: Removable lithium ion battery, charges in 90 minutes via an AC adapter. Fits men's shoe sizes 6.5+ and women's 6+.
---
SkootRider Off-Road Skateboard
If you like the idea of a skateboard but want something with electric power, this electric skateboard is perfect. This is also great for thrill seekers who don't want to be limited to neighborhood streets and sidewalks. Featuring one electric wheel in the center of the board, it rides similarly to a snowboard. Snowboarders, skiers, and surfers love these. It works similarly to a hoverboard, leaning forward accelerates and leaning backward slows it and eventually stops the skateboard.
The Onewheel started as a Kickstarter project and is now a full-fledged business developing new models and features. The inventor is an avid snowboarder, so he really wanted to create the feel of riding on powder anywhere. That smooth ride lasts for a range of 6-7 miles and you only need 20 minutes to fully recharge the battery. This is a great option for adventurers that you can ride on pavement, gravel, sand, grass, and all kinds of other "off-road" situations.
Notable features: Top speed 15 mph, range of 6-7 miles, 2 horsepower motor, intuitive controls, LED headlights and taillights, 20 minute full recharge, LiFePo4 Lithium batteries, smartphone app for controls
Check out more electric skateboards.
---
Don't forget to shop for safety gear and children's safety gear to go with your hoverboard alternatives.