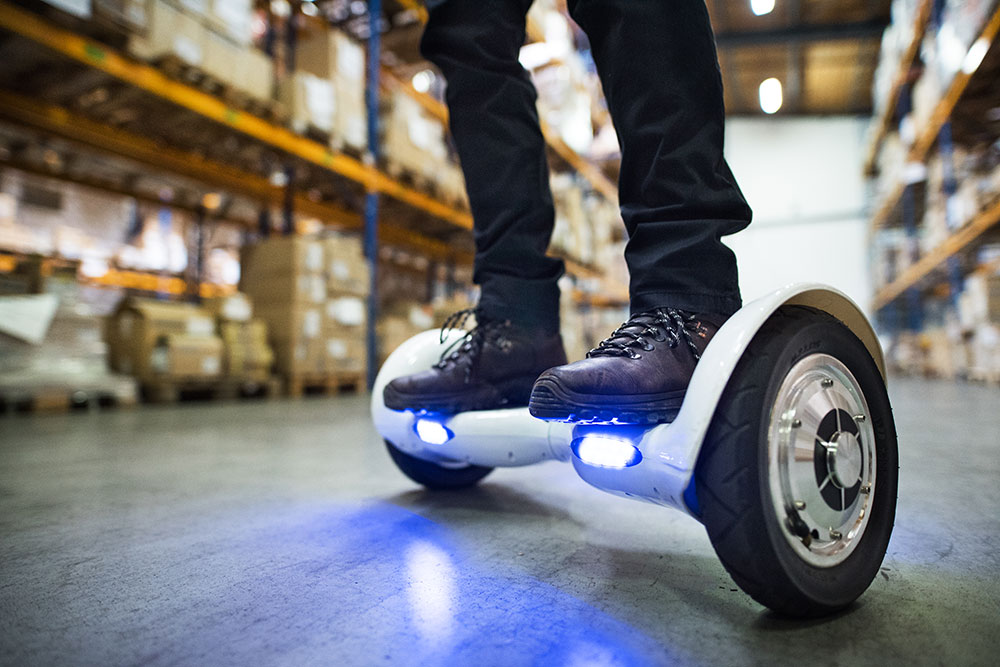 If you're shopping for hoverboards, you've probably noticed reviewers and manufacturers mentioning UL2272 certification and how it's a good thing for a hoverboard to have. But what exactly does this certification mean? The UL2272 is a safety certification for self-balancing scooters that ensures the electrical systems meet specific safety standards. In this article we'll dive into the history of hoverboards and why this safety certification is so important.
Hoverboard History and Safety
While hoverboards were once just an invention of science fiction stories, in 2013 that all changed when American inventor Shane Chen released the first self-balancing hoverboard, the Hovertrax. By 2015, these personal transporters exploded in popularity with a variety of brands releasing their own version of hoverboards.
While many of these hoverboards came from well-known brands, the market was soon flooded by tons of Chinese knockoffs. And then the fires started. Suddenly across the country, hoverboards were combusting in people's homes, catching fire while charging. Many hoverboards were recalled over the safety issues. The fires were caused by the lithium-ion batteries that power the hoverboards. They would overheat, spark, catch fire, or even explode. Considering how many children enjoy riding hoverboards, this was a frightening prospect for parents.
Hoverboard Safety Standards and UL2272 Certification
In response to these hoverboard fires, UL (Underwriter Laboratories) stepped in to create a safety certification specifically for self-balancing hoverboards so consumers could have confidence in the quality of the hoverboards they're buying. These standards were launched in February 2016.
To earn the certification, the hoverboard must undergo extensive safety testing and evaluation of construction and materials. All components of the hoverboard must be evaluated including the charger, battery, and the hoverboard itself.
By May 2016, UL issued the first safety certification to a Segway Ninebot hoverboard.
How do I know a Hoverboard has UL2272 Certification?
If you're shopping for hoverboards, you can quickly check if a brand is certified by searching the UL certication database. Search by the manufacturer's name to see their certified products.
If you already own a hoverboard or are looking at a hoverboard in person in the store, look for a UL holographic label and Enhanced Mark, pictured below.
While having the safety certification will help ensure the hoverboard meets those standards, you still need to be safe in the way you operate your hoverboard. Don't leave it plugged in when it's done charging to help prevent overheating of the battery. Also make sure to wear appropriate safety gear and learn how to ride a hoverboard to avoid injury.
---
If you're new to hoverboards, learn how hoverboards work and safe hoverboards you can buy.
If you're not ready for a hoverboard, check out these safe hoverboard alternatives.