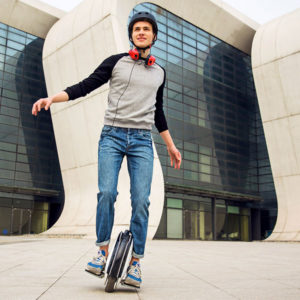 With the hoverboard craze, there's been an increase in other electric personal transporters available on the market. Electric skateboards and other hoverboard alternatives have become very popular among kids, teens and adults. Electric Unicycles, which have existed since before hoverboards became one of the hottest personal transporters, are enjoyed by casual riders and commuters alike.
If you're not familiar with electric unicycles, they are similar in many ways to two wheel self-balancing personal transporters. Obviously, by the name, they only have one wheel. On each side there is a foot pad that you stand on, straddling the wheel in the middle. Riding an electric unicycle is similar to a Segway, you lean your body to control speed and direction. If you're interested in learning more about these transporters, including the best electric unicycles available keep reading. Check out our comparison chart and full reviews for each brand.
Electric Unicycle Comparison Chart
Check out our comparison chart for electric unicycles. If you want to read our in-depth review of each model, scroll down to the next section.
Want to compare all of the hoverboards we've reviewed? Check out our Hoverboard Comparison Chart.
Best Electric Unicycle
Segway One S1 Electric Unicycle
Segway has been a pioneer in the world of personal transporters, so it makes sense that they also manufacture one of the best electric unicycles on the market. The Segway One S1 is a self balancing personal transporter created for commuters or anyone who needs a little assitance getting around. Great for teens and adults, it's easy to get started on the One S1 thanks to the free smartphone app with the new rider tutorial. This model meets the same safety certification standards as hoverboards, so you don't have to worry about the lithoum ion batteries overheating or catching on fire.
With a four hour charging time, the One S1 has a 15-mile riding range, perfect for commuting or zipping around campus. Once you get to your destination, you can lock your unicycle. It's also easy to carry at only 25 pounds. Sportier riders may be frustrated by the speed limitation (top speed in 12.5 mph) and some reviewers say it the One S1 doesn't handle non-pavement surfaces as well as competitors. For sidewalk or road riding, this model is a great choice for commuters and college students.
Available colors: white
Max Speed: 12.5 mph
Max Distance: 15 miles
Notable features: UL 2272 Safety Certification, 25 pounds, New Rider Tutorial, smartphone app, safe for riders 16 years of age or older, max weight 220 lbs., 4 hour charge time, customizable LED lights
---
Article continues below
---
SWAGTRON SwagRoller Electric Unicycle
Swagtron was one of the first companies to get into the hoverboard game, so we're not surprised that now they offer an awesome electric unicycle. The SwagRoller is a slick personal transporter great for urbanites and college students. It's a little bit cooler than the Segway and even has a built in Bluetooth speaker if you want to listen to music on the go. The 14″ dual tires give you excellent traction for riding and work on all terrains. For new riders, the Swagroller comes with training wheel accessories to make learning a little easier.
The SwagRoller is super portable and compact. The metal footrests fold in and it also includes a carrying handle so it's easy to transport it when you aren't riding. The handle even extends so you can roll the electric unicycle along the ground like a suitcase. With built in LED lights for visibility and safety, the SwagRoller is a great option for teens and college kids. Ride it on sidewalks, in the park, or just around town. This is a great option for anyone interested in an electric unicycle.
Available colors: White
Wheel Size: 14″
Max Speed: 9 mph
Max Distance: 12.4 miles
Notable features: UL2272 certified, max weight 264 lbs., Bluetooth speaker, smartphone app, LED lights, 3 hour charge time, retractable carry handle, IP55 water resistant, gyroscopic balancing technology
---
Electric Unicycle vs. Hoverboard
A lot of people aren't sure whether they should buy a hoverboard or an electric unicycle. If you can't afford both, there are a couple things you should consider before you make your purchase.
Electric Unicycle Pros
Electric unicycles are faster than even the fastest hoverboards. Hoverboards top out at 12 mph, while most electric unicycles can hit speeds around 20 mph and others reach up to 30 mph.
Great for off-road riding. While most hoverboards are best to use on sidewalks or streets, electric unicycles can go off-road. They work on dirt, grass, and gravel. They can also go up stairs and over curbs, which is super convenient for a lot of commuters.
Electric Unicycle Cons
Electric Unicycles have a bigger learning curve. While it's not impossible to use, it may take longer to learn how to ride them. If you already have experience with a hoverboard or riding a regular unicycle you may be able to learn it more quickly. Do not expect to just get on your EUC and go like you can with a hoverboard.
Price. Usually, electric unicycles are more expensive than hoverboards, especially because there are fewer models available. If you're on a budget, you may want to consider a cheap hoverboard instead.
Electric unicycles are heavier than hoverboards, often around 30 lbs. That can make them inconvenient to carry around if you use them to commute or get around campus.
How to Ride an Electric Unicycle
Electric unicycles are a little harder to learn to ride than a hoverboard. It may take some time before you can master it. But just like anything else, if you fall you should get back up and try again.
Here are some tips to help you as you learn to ride your electric unicycle.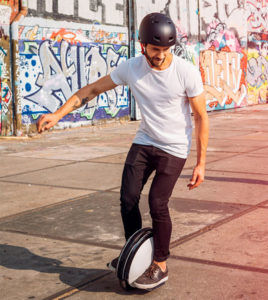 Try to find a location where you can practice that has a rail or other tall object you can use for stability.
Turn your electric unicycle on.
Hold onto your rail or stabilizer. Place your outside foot (the one away from the stabilizer) on the footrest while holding the EUC with your outside hand.
Holding the rail, jump your other foot up onto the footrest.
Use your rail to support yourself as you practice moving the electric unicycle.
With your knees slightly bent, lean forward a little to move forward. Keep your hand on the rail in case you lose balance. Lean back to stop. Repeat this until you feel comfortable enough to let go of the rail and ride.
To increase speed, lean forward more. To slow down or stop, lean back.
To mount the unicycle without the assistance of a rail, you should put one foot on the footrest and hold the handle with the same hand. Push off the ground with your other foot and lean forward at the same time so the unicycle starts moving. It may take some practice to do this without losing your balance.
Once you've mastered going straight, you can practice turning. To turn an electric unicycle, you need to lean your body in the direction you want to turn. Try gradual turns at first. Usually, if you've mastered riding without a rail or support you should be able to turn without losing your balance.
It may take a couple of hours of practice to really feel comfortable on your electric unicycle.
Check out this video that shows you how to ride an electric unicycle:

When you are new to riding your electric unicycle, you will fall. Make sure to wear appropriate safety gear to prevent injuries. Otherwise, just get back up and try, try again!