The truth is, an awful lot of cheap hoverboards are actually made by a single manufacturer that "dresses up" the boards slightly differently so they appear slightly different from one another, even though they're based on the exact same base model. For instance, they'll apply a different hubcap style to the wheels, or a slightly different grip pattern on the footpads. They might be sold under different brand names by different retailers but the bottom line is, they're the exact same hoverboard.
Here are some of the most unique and coolest hoverboards on the market today that look totally different from the rest and really stand out.
Razor Hovertrax 2.0 Self-Balancing Smart Scooter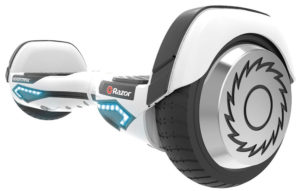 The maker of the coolest scooters has a brand new hoverboard on the market. Calling it the "world's smartest self-balancing electric scooter," Razor's Hovertrax looks cool and rides smooth. Their big selling point is the Everbalance technology, which automatically levels the hoverboard to make it easier to mount and ride. It also has two riding modes built in: regular and training, making this one of the easier hoverboards to learn to ride.
The Hovertrax works indoors and out, great for riding down the street or doing tricks in the park. There are also safety features built in like LED lights, anti-slip rubber foot platforms, and a shatter resistant polymer frame. It also meets all federal safety regulations. Built for riders age 8 and older, this is a perfect option for teens and adults.
Available colors: black, blue, white
Notable features: continuous run time 60 minutes, supports riders up to 220 lbs, Everbalance technology, 2 riding modes, LED light displays, LED battery power indicator, cruising speed 8 mph
---
---
Skque 6.5″ Hoverboard with Bluetooth Speakers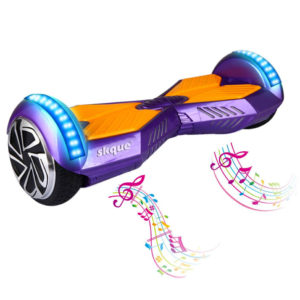 Looks cool? Check. Awesome LED lights? Check. Bluetooth speakers? Check! This is one of the coolest hoverboards we've seen on the market this year. The Skque 6.5″ self balancing scooter will make heads turn when you ride down the street. The unique design features LED lights on the wheels and brightly colored rubber foot pads.
The turning radius on this glideboard is zero, meaning you can do 360 tricks and more. Maneuverability is great once you learn how to ride. The smaller wheel size means this hoverboard works for kids, teens, and adults.
Available colors: purple, black
Notable features: max weight 264 lbs, max speed 6 mph, riding distance 11-15 miles, charing time 1-2 hours, remote control, LED lights, Bluetooth speakers
Check out more hoverboards with Bluetooth speakers.
---
Skque 10″ Graffiti Hoverboard
Looking for something cooler than the normal solid colored hoverboards. Well Skque makes this 10″ two wheel scooter in nine different color options, including awesome patterns like red flames, graffiti, and splatter.
This glideboard comes with a remote control and a charging cable. Charging time is less than 2 hours and gives you a riding range of 11-15 miles. This hoverboard is perfect for short distance commutes, riding in the park, or to get around faster while playing Pokemon Go. The Skque also comes with a manual to easily setup and learn how to ride your new hoverboard.
Available colors: burgundy, carbon red, black, white, red, carbon, red flames, graffiti, splatter
Notable features: UL2722 safety certification, max weight: 264 lbs, max sped: 6.2 mph, ride distance: 11-15 miles, charing time: 1-2 hours, 10 inch wheel size, remote control,
---
X1 Edition 8″ Wheels Hoverboard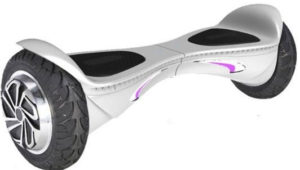 This hoverboard is slick. It looks like it's out of the future. The awesome design of the X1 edition includes LED lights and bluetooth speakers. Perfect for adult riders, this glideboard only requires an hour to fully charge and then you're good for 9 miles of riding.
This self-balancing scooter also features a 30 degree climbing angle, so it's good for short distance commuting or riding for fun in the park.
Available colors: white, gold
Notable features: 1 hour charging time, safety certified, 30 degree climbing angle, minimum weight 75 lbs, max weight 240 lbs, speed 10 mph, ride distance 9 miles, Bluetooth remote tire lock
---
Hoverheart Metallic Chrome Hoverboard
These new hoverboards from Hoverheart are slick. They're all metallic chrome finishes, which look fantastic cruising down the street. We especially love the rainbow finished (pictured left) because it has an awesome hologram look. In addition to the sick colors, this hoverboard also features LED lights on the top of the wheels, the front, and the wheels itself.
If you're looking for a cool hoverboard with Bluetooth speakers, then the Hoverheart has you covered. Just pair it with your phone to listen to your favorite music while you cruise. This hoverboard is a great choice for kids and young adults.
Available colors: Chrome: blue, gold, green, pink, rainbow, rose gold, silver, titanium
Wheel Size: 6.5″
Max Speed: 8.5 mph
Notable features: UL 2272 Certified, 2-3 hours charging time, max weight 220 lbs, Bluetooth Speakers, LED lights
Want to customize or pimp out your hoverboard? Check out these cool hoverboard decals, skins, and stickers.