2017 Updates: Due to new safety regulations, hoverboards are available again to buy in the USA. We are updating our articles as the items are available for purchase.
Safe hoverboards for sale in 2016.
Hoverboards come in plenty of different colors these days. These days you can get them in all sorts of colors, from pink to camouflage print. But some people prefer plain black hoverboards. Here are some of the coolest black hoverboards with Bluetooth speakers:
Hoverzon Self Balancing Hover Board with Bluetooth Speakers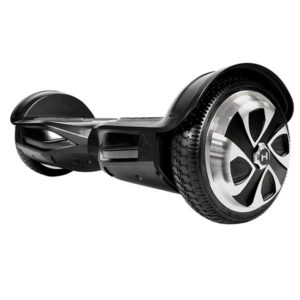 Hoverzone has a cool and slick hoverboard that looks like it's out of the future. It has front and rear LED movement indicator lights, which look cool but are also an added safety measure for night riding. If you want to enjoy your music while you ride, the Bluetooth speakers will blast your favorite tunes. If you want something fancier than black, the Hoverzone comes in 6 colors, including pink and gold.
Hoverzone takes safety seriously. In addition to a Ul2272 certification, their hoverboard is made from a fireproof exterior casing. They've also improved the pedal sensors by making them wider with an anti-slip material. The 2 speeds make this a great starter hoverboard for newbies, but still fun for advanced pros. The smart battery management system gives you better battery performance and the LED battery indicator lets you know when you need to recharge.
Available colors: black, blue, garnet, gold, pink, white
Notable features: Ul2272 Certified, anti-slip pedal sensors, fireproof casing, built-in Bluetooth speaker, front and rear LED movement indicator lights, smart battery management system, two speeds
---
---
Skque "The Edge" 6.5″ Hoverboard with Bluetooth Speakers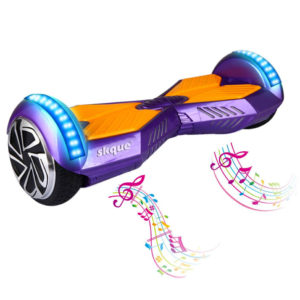 Looks cool? Check. Awesome LED lights? Check. Bluetooth speakers? Check! This is one of the coolest hoverboards we've seen on the market this year. The Skque 6.5″ self balancing scooter will make heads turn when you ride down the street. The unique design features LED lights on the wheels and brightly colored rubber foot pads.
The turning radius on this glideboard is zero, meaning you can do 360 tricks and more. Maneuverability is great once you learn how to ride. The smaller wheel size means this hoverboard works for kids, teens, and adults.
Available colors: purple, black
Wheel Size: 6.5″
Max Speed: 6 mph
Max Distance: 11-15 miles
Notable features: max weight 264 lbs, charing time 1-2 hours, remote control, LED lights, Bluetooth speakers
---
iGlideX Hoverboard (CURRENTLY UNAVAILABLE)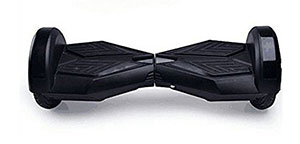 Now here's a distinctively shaped black hoverboard with Bluetooth speakers. The iGlideX Hoverboard features black molding and black footpads (i.e. black on black) and gets about a 15 mile range on a single charge. Charging for this unit takes about two hours and then you're good to go. The top speed is about 10 miles per hour and it comes with a remote control to turn it off and on.
Rockpals 8 inch Hoverboard (CURRENTLY UNAVAILABLE)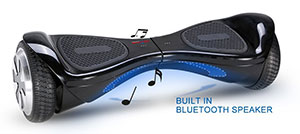 The Rockpals black hoverboard with bluetooth speakers has a distinctive set of blue running lights that illuminate the pavement underneath your personal segway hoverboard. Like the other hoverboards on this page, it uses the Bluetooth protocol to play music from your iPhone or Android phone. It's a medium sized hoverboard with a wheel diameter of 8 inches and weighs about 22 pounds.
FunAce Self Balancing Scooter (CURRENTLY UNAVAILABLE)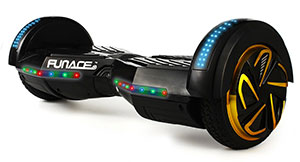 This is definitely one of the most pimped out black hoverboards with bluetooth speakers we've seen. Not only does it feature blue LED lights over the wheel bumper guard, it also has multicolored LED lights across the front. This electric scooter also comes with a handy remote control so you can turn it off when it's idling without having to reach down to press the off button.
Want to customize or pimp out your hoverboard? Check out these cool hoverboard decals, skins, and stickers.