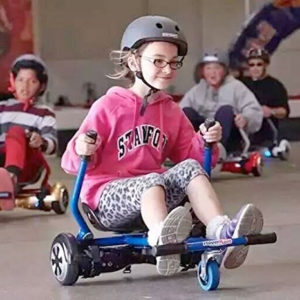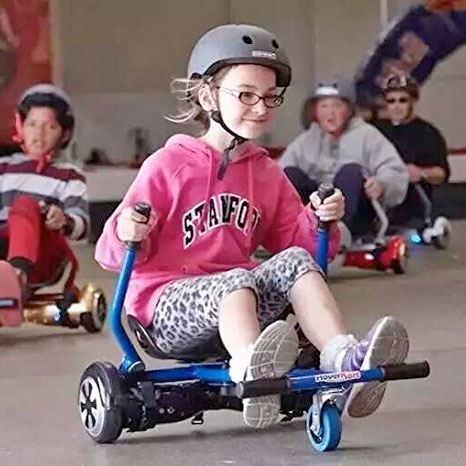 After you've purchased a hoverboard there's tons of fun things to do with it. Once you learn how to ride your hoverboard, you can learn to do hoverboard tricks or buy awesome accessories to diversify your ride. Hoverboard carts take a simple balance board and turn it into a cart or scooter that you can ride sitting down.
While there's many make your own versions available, if you're not handy or want to buy a kit, there's plenty of hoverboard carts available. Here we round up some of the best ones to add a little more fun to your glideboard. Check them out below. (Note: hoverboards are not included with these scooters and karts. You will need to buy one separately.)
Hoverboard Cart and Scooter Accessories
HoverSeat Hoverboard Cart
This is a safer option for riding a hoverboard, especially for newbies. The cart keeps you stable so you can't fall over as you comfortably sit and ride. Attach any hoverboard to the front of the cart and you're ready to go. If you know how to ride a hoverboard normally, you'll easily master this hoverboard cart. You control the speed and turning with your feet–the cart even reverses using the same natural movements. This cart works on and off road over many different types of surfaces (grass, gravel, packed sand, etc.).
Note: this item does not come with a chair, but it works with any style folding beach chair. Easy assembly is required, the cart needs only five screws to put together and does not require tools.
---
Hoverboard Hover Kart
We think this is one of the coolest option of the hoverboard carts currently available. Built like a go-kart, your two wheel self balancing electric scooter attaches to the cart and functions as the back wheels. When you sit in the cart, your feet go on the front rests and you control and steer the balance board using the pull rods. This also controls the speed.
Learning to use the cart is easy. You pull the rods down to move forward and increase the speed. To slow down or reverse, pull the rods back. It's the same movements for riding a glideboard standing up and easy to learn. Add fun and diversity to your riding experience with this cart. It's great for kids, teens, and adults.
Available colors: blue, red
---
Neon HoverKart Hoverboard Kit
Here's another hoverboard cart adapter to consider. This hoverboard accessory transforms your hoverboard into a three wheeled vehicle for riding fun. It features to hand sticks for steering and powering the cart, plus a foot rest to make the ride comfortable. This is perfectly size for kids and a fun new way to experience their hoverboard.
The cart used velcro straps to attach the hoverboard to the frame. That makes it easy to hook and unhook the kart and means it is flexible to use with a variety of hoverboard sizes and brands.
For ages 7 and up. Max weight 220 lbs. Compatible with most 6.5″, 8″, and 10″ sized hoverboards.
Available colors: red, blue
---
Off Road Hovercart
If you're looking for a hovercart adapter that can go beyond the basic sidewalk riding, check out this model. This Hovercart has a similar design to most of the other ones, but it has some nice upgrades. First, it has an adult sized seats so the whole family can get in on the riding action. The center bar is also adjustable in length for a comfortable ride no matter your height. Second, it has a pneumatic front tired and shock absorbers so you can take it off road and on bumpy surfaces and still enjoy the ride. The frame is made from titanium steel, so it will standup to the wear and tear of casual riding.
This hovercart fits a variety of hoverboard sizes and is a great investment for kids or adults.
---
Need a hoverboard to go with your cart? Check out safe hoverboard available to buy now. Don't forget to pick up some safety gear.
---
Frequently Asked Questions about Hoverboard GoKart Kits
Are these hoverboard go-kart kits safe? Since these go-karts remove the standing element and the balancing element of hoverboard operation, we'd argue that they're probably safer than using a hoverboard while standing since there's much less a chance that you or your child will fall off the hoverboard while seated. As always, we recommend getting hoverboard safety gear all the same.
How much weight can these sitting hoverboard kits support? Different hoverboard go-kart kits will accommodate different weights but we've seen 220 pounds as a common weight limit. Of course, your glideboard itself will have its own weight limit that you should also consider before operating.
Is there a height limit for these hoverboard karts? Are they only meant for kids? Hoverboard karts are by and large meant for both children and adults and most hoverboard seat kits include adjustable footrests so taller or shorter people (kids or adults) can use them.
How heavy are these hoverboard karts? The weight of these hoverboard chair kits vary from model to model but their weight ranges from under ten pounds to hover thirty. If weight is an important factor to you, make sure you check the item weight of any hoverboard chairs you're considering.
What can I use a hoverboard scooter chair for? There are all sorts of possibilities for hoverboard scooter seat kits. For instance, you could organize a go-cart race, or build a hoverboard kart obstacle course to navigate. Additionally, children who like the idea of hoverboards but have bad balance or are afraid to stand on them can get some enjoyment out of a hoverboard with one of these kits.
---