An important part of safe hoverboard riding is making sure you're visible if you're riding in areas where cars and cyclists are riding. This is especially important at night or during early morning and late evening hours when light and visibility are reduced. Luckily there are tons of hoverboard safety lights and other gear available to help keep you visible and safe.
Almost any type of safety lights for skaters, cyclists, and other outdoor "riders" will work well for hoverboard safety. Even if your personal transporter has lights built-in, those are at ground level and may not be easily visible especially to drivers in cars. We'll highlight several different options for hoverboard safety lights that you should consider. You won't need every type, but these lights are affordable so you should buy as many as you need to ensure you're visible.
These recommendations are geared towards kids, teens, and adults. Even if you don't usually ride your hoverboard or glideboard at night, it's good to increase your visibility in case of overcast skies or foggy weather. A little bit of caution could save your life.
Hoverboard Safety Lights
Flashing LED Shoe Lights for Hoverboard Riding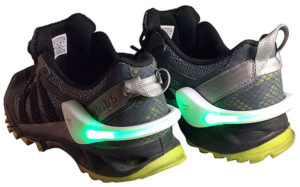 If your hoverboard doesn't have LED safety lights built-in, you can increase your visibility by buying hoverboard shoes (sneakers will LED lights along the sole) or you can convert your favorite pair of shoes with a pair of these shoe lights. These flashing LED lights were designed for runners, but work perfectly when you're riding a 2 wheel self-balancing electric scooter. These easy to use lights clip onto the back of your sneakers and the battery-powered LEDs flight to give you better visibility. There are four light modes to choose from: solid, flashing, sensor mode (flashes if any motion is detected), and SOS flash mode.
These lights are powered by an easy to replace watch battery that lasts for approximately 70-90 hours of use. You can also clip these to the front of your sneaker or wear them around your forearms, giving you flexible safety light options depending on where you're riding.
Available colors: black with multi-colored lights, black with red lights, white with multi-colored lights, white with red light
---
Clip On LED Safety Lights
If you want safety lights but also crave flexibility for how and where you wear them, these clip on LED lights are a great option for when you're riding a self-balancing personal transporter. Sold in packs of three, these battery-powered lights clip easily to clothing, shoes, or backpacks. They can also be worn with the included adjustable velcro straps which allow you to wear them as an armband.
These lights have three settings: steady, fast strobe, and slow flash. You can choose which mode works best for the visibility you need. The batteries last for about 100 hours and are easy to replace. Each set comes with 2 additional batteries and a mini screwdriver to open the battery panel. We would recommend these for anyone who is very outdoorsy. If you run, cycle, rollerblade, or even walk your dog, you'll find countless uses for these LED lights.
Available colors: red, blue, green, white
---
LED Reflective Belt Safety Lights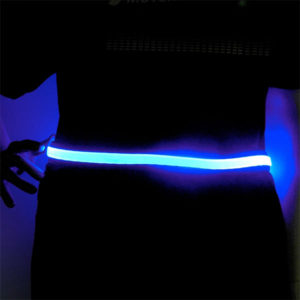 If you're hoverboard already has built-in safety lights and you're looking for one additional light to make you more visible when riding in low light conditions, we recommend this LED belt. This is another item made for runners and cyclists that translates perfectly to hoverboard riders. This adjustable belt comfortably attaches around your waist and works in two ways. The material is reflective, but also has a built-in rechargeable battery that illuminates LED lights throughout the length of the belt. This belt assures you're completely visible when riding your electric balance board, no matter the lighting conditions.
The battery charges in 2 hours and then lasts for 10 hours–this is a great option if you don't want to deal with changing out watch batteries. Each belt has three light modes: blinking, fast blinking, and steady.
Available colors: blue, green
---
LED Slap Band Glow Bracelet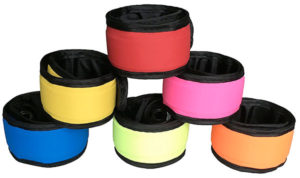 If you don't like the LED belt, a slap band is a great alternative safety light. These nylon bands easily slap on to your arm or leg and glow thanks to the battery powered LED lights. Because they're slap on, sizing is easy and this bracelets will fit adults and kids equally well. The band lights up all the way around providing 360 degrees of glow. This LED safety light only has two modes: steady and flashing.
The coin battery is easily replaced, and the item comes with a spare battery. With plenty of color options to choose from, you'll be sure to find one that matches your hoverboard. This is a great, flexible visibility light options.
Available colors: pink, blue, red, orange, green, yellow
---
Once you've decided on the perfect hoverboard, don't forget to pick-up these must have hoverboard accessories and essential hoverboard safety gear. Turn your hoverboard into a Go Kart with add ons.