So you're interested in the latest fashion trend among hoverboard riders? Just saying the name hoverboard shoes sounds cool and these LED sneakers look awesome on your feet. No, they don't hover off the ground (wouldn't that be amazing?!), but these light up sneakers look slick whether you're riding your 2 wheel electric scooter in the park or heading to your next class.
This trend started with a pair of $500 hoverboard shoes called Simulation by designers Yifang Wan and Samuel Yang. They were plain white sneakers featuring a row of LED lights around the sole of the shoes. What makes these unique from the light up sneakers you remember from your childhood is that instead of flashing when you take a step, these lights are programmable. They can appear in several colors and different flashing combinations. Plus, you can turn them off when you don't want to draw attention–like while shopping at a grocery store.
While they're called hoverboard shoes, they're not unique to hoverboarders. Anyone can wear these fun and trendy shoes, especially since there's plenty of options available on the market and the price has dropped to a more reasonable level. They are especially popular with dancers and entertainers because they look amazing with the right choreography. Runners also enjoy the visibility these shoes give during their morning or evening jog. And, of course, they're a great option for hoverboarders who want to look cool while riding or add some additional safety lights to their hoverboard. Whatever your interest in hoverboard shoes, we've rounded up the best hoverboard shoes available to consumers. We took into account price, customer response, and features to help you find the perfect pair of kicks.
Best Hoverboard Shoes
Odema High Top LED Hoverboard Shoes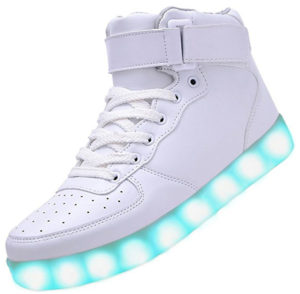 If you're looking for a pair of sneakers that mimic the minimalist style of the original Simulation hoverboard shoes as an affordable price, then the Odema LED shoes are right for you. Made from PU leather (that feels very real at a fraction of the price), these high top sneakers feature LED lights along the sole that feature seven different light colors. You can program it to glow steady in your favorite color, switch between colors, or shut the lights off. This is controlled easily by a hidden switch inside the shoe.
The lights are powered by a USB rechargeable cable (included). The charging port is inside the shoe, hidden from view. It takes about 3 hours to charge the shoes fully using the 2 cable charging cord that recharges both simultaneously. The no slip sole makes these shoes great for dancers or for riding your balance board. Reviewers say these shoes are comfortable and look great, though some reviewers have had technical issues where the lights stop working after a few days. Odema offers a great replacement policy if you do have issues with your new hoverboard shoes.
Sneaker colors: black, white, gold, red, silver (men's sizes in black and white only)
Light colors: red, green, blue, yellow, sky blue, purple, white
---
Article continues below
---
CIOR LED Light Up Shoes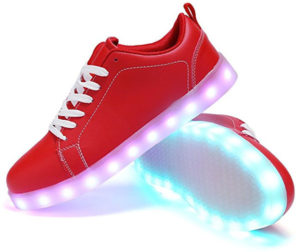 If high tops aren't your style, then no worries. Thes CIOR hoverboard shoes are available in a classic sneaker design. Made from PU leather and rubber soles, there are 7 colors options to choose from to match your wardrobe–or your hoverboard. Using the hidden switch you can change the LED light colors in addition to switching the lights on or off or selecting the random color mode. (Check out the Amazon reviews to see customer pictures and videos of the shoes in action.)
The shoes take 3 hours to charge with the included USB cable and provide 8-10 hours of light. The manufacturer does warn that these shoes are not meant for runners or any other high impact activities, but they work perfectly for casual wear and riding a hoverboard. These sneakers are available in kids sizes and also men and women's sizes on the same listing, so you can get these cool kicks for the whole family.
Sneaker colors: black, white, silver, pink, pink/silver, red, gold
Light colors: green, blue, yellow, light blue, red, purple
---
MOHEM ShinyNight High Top LED Light Shoes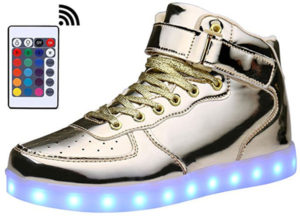 Some buyers find the button operation of other lightup sneakers to be cumbersome and annoying. These hoverboard shoes from Mohem fix that problem by including a wireless remote. The remote gives you options to change the colors (16 static colors and 4 dynamic changing color modes) as well as increase or decrease brightness, change the color effects (flash, strobe, fade, smooth), and turn the LED lights on or off. This sneakers are made with PU leather and feature a comfortable rubber sole. Inside it's outfitted with a USB charging port (cable included) and a control switch that you can use if you don't have the remote on hand.
The 3 hour charge time gives you 8-11 hours of lighting, enough to get you through a day. These shoes look great for a night of clubbing or an evening of skateboarding and hoverboarding in the park. Mohem offers sizes for kids, men, and women in the same listing, so don't forget to pick up a pair for everyone on your shopping list.
Sneaker colors: blue, white, black, pink, shining black, shining pink, shining gold, shining blue
Light colors: red, green, blue, white, purple, pink, orange, yellow, plus other shades
---
Joansam LED Sneakers
If you're looking for a different, more unique design to your hoverboard shoes, check out the LED light shoes from Joansam. Made with a breatheable cotton-blend upper, these shoes are super comfortable and feature 360 degrees of LED lights in the rubber sole. The seven LED light color options are controlled by a switch inside the shoe and can be displayed in a steady mode or in a light-changing mode cycling through each color.
All of the Joansam light up shoes features cool two-toned patterns that look great with the lights. Charge them easily with the included USB charging cable. These shoes come in unisex sizing and designs for men and women. They do not offer kids sizing, buy older kids and teens will be able to find a size that works for them.
Sneaker colors: black/white, black/gray, blue, green, red, white, camo blue, camo brown, pink
Light colors: red, green, blue, yellow, sky blue, purple, white
---
Sabe Splatter LED Hoverboard Shoes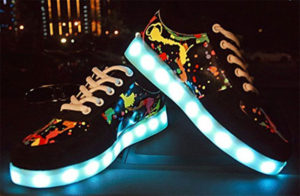 If you're looking for a trendy design to go with your LED light sneakers, check these out. Sabe's hoverboard shoes come in one design, a hip paint splatter print on the PU leather shoe. The rubber soles include the bright LED lights that can glow in 7 different colors or a rotating design.
These light up sneakers utilize a USB charging cable to recharge the lights. It takes 3 hours to fully charge and provide 10 hours of light. This sneaker is available in unisex sizes that fit both men and women. Note that these shoes run on the small size, so you should order 0.5-1 sizes larger than your usual size.
Light colors: white, purple, yellow, blue, green, light blue, red
---