Fans of Back to the Future Part II waited patiently for 2015 to come and deliver the future we dreamed of with automatic lace-up shoes, the Cubs winning the World Series for once, and, of course, hoverboards.
While we did get a product called hoverboards, more like an electric segway without a handle, we never quite got the hoverboard we were promised by the movie. However, there are still some cool gifts and desk toys that can fill the floating-board shaped hole in our hearts–including a hoverboard that actually hovers! There's also some great gift ideas for Back to the Future fans. Check out the list below.
Back to the Future II Hoverboards
Back to the Future Part II DVD and Hoverboard Movie Prop Replica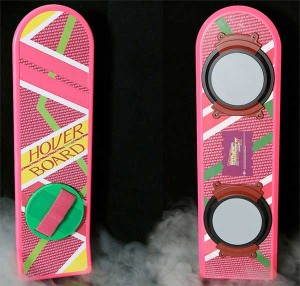 The fine print notes right away that it does not fly, however this exact replica Mattel branded Hoverboard is identical to the one used by Marty McFly in the second movie. Perfect to display in your home or complete your Halloween costume, this is an amazing collector's item.
Features: Officially licensed to be movie accurate, 28″ long, 8″ wide, 1″ tall, "hover" plates on the bottom, velcro grips and velcro strap.
The pink hoverboard prop comes with a DVD copy of the movie Back to the Future Part II.
---
Article continues below
---
Back to the Future II Miniature Hover Board Replica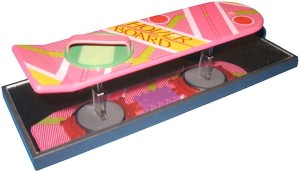 Okay, so maybe the full size hoverboard is too big or too pricey for you. If you're looking for a movie replica you can easily display in your home, try this 5″ Hoverboard replica. This was a LootCrate exclusive to celebrate Back to the Future day in 2015, but is now available for purchase. The 5″ hoverboard is mounted on a mirrored display stand, ready out of the box to display on your shelf with all of your other collectibles.
These are rare, so you'll want to buy yours ASAP.
---
Back to the Future Desktop Floating Hoverboard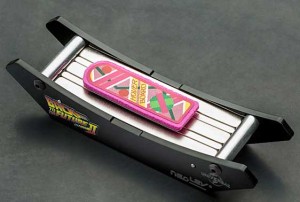 Okay, so you're like, "Enough with the replicas, where is the real floating hoverboard?" You can get a mini hoverboard for your desk that actually hovers. Using rare earth magnets, this Back to the Future II hoverboard replica really floats. And though it's just a mini-version you can't actually fly on, your fingers can get in on the hover action.
Makes an awesome desk toy!
Available with a 4″ base, 6″ base, or 12″ trick base.
---
Full Size Floating Hoverboard Display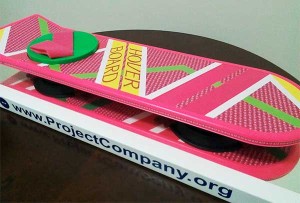 If the mini-version isn't enough, then I'm pleased to tell you that there is a full size replica of the Back to the Future Part II hoverboard, and this one actually floats! You can't ride it–it's just a display piece, but it's still super cool and the kind of thing you'll want to show off to everyone.
If the mini desk hoverboard isn't enough, and you can afford the high price tag on this one, the full-size hover board is your best option to recreate the magic from the movie.
Seems too good to be true? Check out the video below to see it in action:

Back to the Future Memorabilia, Props, and Costumes
Those are all of your hoverboard options, but if you're looking for other memorabilia from Back to the Future II, check these items out:
Back to the Future 2 Limited Edition USA Today Replica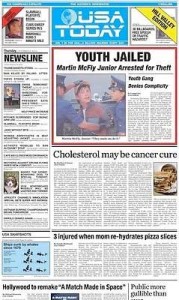 If you missed your chance to snatch up this rare newspaper replica from 10/22/15, you're in luck! It's still available with the special limited edition front page of USA Today from the movie.
It features an article about Marty McFly's son being arrested plus two other humorous articles about cholesterol being a cancer cure, and people injured by rehydrated pizza slices.
This is a very unique collector's item that really brings the future imagined by the second film to life. This would look great framed on any fan's wall, or even make a lovely "gift" for yourself.
Pair it with the Grays Sports Almanac Journal to create an unforgettable gift for any Back to the Future fan.
---
Back to the Future Part II Marty McFly Cap Replica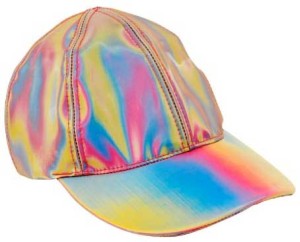 If you're putting together a Marty McFly costume for Halloween, this cat will help complete your ensemble. This is a replica of the costume piece worn by Michael J. Fox during his visit to the retrofuture of 2015. The fabric is color changing with ultra-refractive fabric.
Pair it with this Marty McFly costume and you're ready to go for Halloween.
Features: one size fits all, velcro closures.
---
OUTATIME and 2015 Delorean License Plate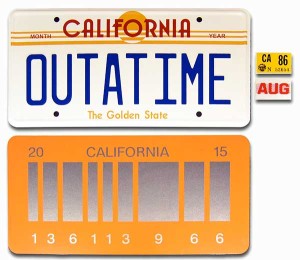 Another screen accurate recreation, you can own BOTH license plates used on the time traveling Delorean, including the OUTATIME plate and the futuristic license plate from 2015.
Both are metal stamped and standard license plate dimensions. Perfect for your very own time machine.
They can also be purchased separately:
OUTATIME License Plate
Back to the Future 2015 License Plate