Now that hoverboards are back on the market in the United States there are plenty of models and features to choose from. It can be overwhelming when you first sit down to buy a new hoverboard. We put together this hoverboard comparison chart to help you narrow down the models and brands you are interested in and find the perfect hoverboard or self-balancing transporter for your needs.
To compare the models you're interested in: drag the name to the "drag here" boxes. You can compare 3 hoverboards at a time and swap them out as you need to.
Hoverboard Comparison Chart for 2022
Photo
Name
Rating
Wheel Size
Max Speed
Travel Range
Features
Colors
Buy
What size hoverboard should I buy?
Generally, hoverboards come in three sizes, which are determined by the wheels' diameter. The standard sizes are 6.5″, 8″, and 10″.
Unless you're buying for a child or a taller or larger adult, you can buy whatever size hoverboard you like best. For children, you should buy a 6.5 inch hoverboard or smaller. The small size is easier for them to control and lighter weight for when they need to carry their hoverboard. Check out hoverboards for kids to see some models in that size range.
For adults, most hoverboards indicate a maximum weight load and you should keep that in mind as you shop. Otherwise, the larger hoverboards are heavier and have larger footpads. If you're a shorter teenager or adult, you may prefer a 6.5″ hoverboard. Taller adults or people with larger feet may be more comfortable riding a 10 inch hoverboard. Consider the specs for each model when you're making your final decisions.
---
What should I consider when shopping for a hoverboard?
There are three main points we recommend when you consider buying a hoverboard (besides size):
1. Safety – In the United States, all hoverboards must meet legally set safety standards to receive a UL 227 safety certificate. These requirements include electrical and fire safety testing to prevent issues that caused the battery fires plaguing many hoverboard models in 2015. As long as you're purchasing from an authorized retailer and well known online companies (like Amazon), you should find safe and properly certified hoverboard models. You should be cautious ordering hoverboards from sites like Alibaba or eBay which may be selling Chinese made hoverboards that have not undergone the required safety testing. If the hoverboard you're considering does not mention UL 227, stay away! (Read more about hoverboard safety and certification.)
2. Features – Many features come standard on hoverboards, but there are still add ons and other bonuses you might consider a "must have." Think about what color you want your hoverboard to be. Do you need Bluetooth speakers so you can listen to music while you ride? What about an app with a security alarm to prevent theft? How long of a travel distance do you need between recharges? What kind of surface will you be riding on–will you need off-road tires for gravel, grass, and dirt, or just something that handles pavement? There are so many different scooter features to consider.
Before you start to shop, I recommend making a list of all the features your new hoverboard must have so you can compare it among the models you're looking at. The hoverboard comparison chart above may come in handy when you consider the best hoverboard features for you.
3. Price – Because of the new safety requirements on hoverboards and balance boards, it is harder to find the very cheap models that were available previously Still, there is a variance in hoverboard pricing, with some models costing significantly more. You should decide what kind of budget you have to spend on your new self balancing transporter and look for hoverboard in that price range. You may find a model you like that costs less, but the higher quality and safety does demand a higher price (and safety is the #1 thing to consider). There are still some cheap hoverboards available if you're looking for something safe that won't break the bank.



---
What kind of features do hoverboards have?
This varies from model to model, but many brands and models of hoverboards have features that consumers look for. Here are some common features you'll see as you compare hoverboard models. Often we highlight these features on our Hoverboard Comparison Chart.
LED Lights – A common safety feature (and sometimes a fun feature as well) is LED lights on the hoverboard. Some models have them on the front, some have them on the back, and some have them on both. You may see models that allow you to program multi-color or changing lights to create a cool light show while you ride. Otherwise, they're mostly to help improve your visibility while you're riding. If you decide to purchase a hoverboard without LED lights, you may want to buy safety lights to wear while you ride or consider a pair of fashionable hoverboard shoes.
Bluetooth Speakers – Add your favorite tunes to your ride! Some models of hoverboards and self-balancing personal transporters come with built-in Bluetooth speakers. You can use them to play music from your smartphone while you ride.
Off Road Tires – The majority of hoverboards come with smooth rubber tires meant for riding on sidewalks, roads, and other cement surfaces. For many riders that will suffice. But if you plan on riding your hoverboard in any "off road" situations, you should look for self-balancing scooters with off-road tires.
---
Do I need helmets or safety gear to ride a hoverboard?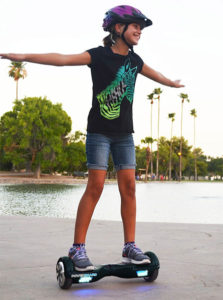 Yes! Just like riding a bike, skateboard, or roller blades you may feel safe without a helmet or pads until you have an accident. At the minimum, you should wear a helmet when riding on your hoverboard or self-balancing personal transporter. This is especially important if you are still learning to ride your hoverboard or if you're riding near traffic (like for commuting) or riding on uneven surfaces (grass, gravel, and other off-road areas). If you're still getting used to riding your hoverboard or use it to do tricks, you should also wear pads to protect your elbows and knees.
For children, they should definitely wear helmets and pads to keep them safe and prevent injury while they ride their hoverboards. You should also make sure they're riding a child sized hoverboard that is safe for their height and weight.
No matter your age, if you ride your hoverboard or balance board after dark or in other low visibility situation, you should also wear safety lights to keep you visible to cyclists, cars, and other riders.