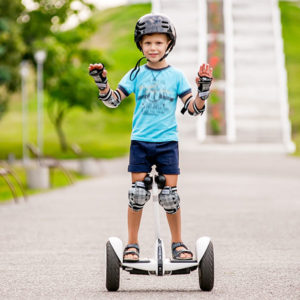 Not every hoverboard is appropriate for kids or children; some hoverboards are large, heavy, difficult to operate and are capable of traveling quite fast. Luckily, some hoverboard manufacturers are making smaller, lighter, and slower hoverboards with kids in mind.
When shopping for kids look for hoverboards with 6.5″ wheel sizes or smaller. They are lighter, making them easier for your children to carry and the small wheel sizes make them easier to maneuver by smaller riders. Check out our comparison chart and then the reviews for the best hoverboards for kids.
Hoverboards for Kids Comparison Chart
Check out our comparison chart for children's hoverboards. If you want to read our in-depth review of each hoverboard model, scroll down to the next section.
| Name | Photo | Rating | Wheel Size | Features | Buy |
| --- | --- | --- | --- | --- | --- |
| Sisigad Pure Color | | | 6.5 inch | Max distance: 9 miles, max speed: 9mph, LED safety & wheel lights, Bluetooth speakers | |
| Swagtron T5 | | | 7 inch | Max distance: 11-15 miles, max speed: 7 mph, learning mode | |
| Cho Power Sports | | | 6.5 inch | max distance: 10-15 miles, max speed: 6.5mph, Bluetooth speakers | |
| LieEagle Flash Light | | | 6.5 inch | Max distance: 10 miles, max speed: 7.5 mph, LED lights, wheel lights, Bluetooth speakers | |
| Segway Ninebot S | | | 10.5 inch | Max distance: 11 miles, max speed: 10 mph, LED tail lights, mobile app, knee control bar | |
Want to compare all of the hoverboards we've reviewed? Check out our Hoverboard Comparison Chart.
Best Hoverboards for Kids Reviews
Sisigad Pure Color Hoverboard for Kids
If you want a reliable classic hoverboard model that's well sized for children, check this one out. The Sisigad Pure Color series is perfectly sized for kids with 6.5″ wheels and includes LED lights on the front, bumpers, and even the wheels for extra visibility. The big feature that really makes the Pure Color series a great hoverboard for kids is the easy ride mode that's perfect for young and beginning riders to learn. In addition to the UL safety certification, this self-balancing scooter provides extra safety with its battery management to prevent overheating.
I will note this model is a little faster than some of the others, with a top speed of 9 mph. If you're worried about your kid being a speed demon, you may want to opt for a slower model. If your child has been begging for a hoverboard with cool features, Sisigad delivers them at an affordable price. The Pure Color series features awesome multi-color LED lights on the wheels and built-in Bluetooth speakers so you can listen to music as you ride.
Available colors: black, blue, white, pink, camo pink, carbon green, green, green and gray, orange and gray, yellow and gray, spray black, spray blue, spray white
Wheel Size: 6.5″
Max Speed: 9 mph
Max Distance: 6-9 miles
Notable features: UL2272 safety certification, LED front, bumper, and wheel lights, Bluetooth speakers rubber tires, 3-5 hour charge time, min weight 44 lb, max weight 260 lb
---
Swagtron T5 Hoverboard for Kids
Swagtron is one of the top hoverboard brands and they've been around since the beginning of the trend. Their T5 model is designed specifically for new riders and is advertised as their entry level board. The best feature for young riders is the learning mode, which restricts riding speeds while they're first learning how to operate the board. It also helps prevent the hoverboard from suddenly going too fast, which reduces falls.
While the T5 doesn't have any flashy features, the smaller size (it only weighs 19 lbs. and has 7″ wheels) makes it great for young riders. This is the perfect hoverboard option for children and teens.
Available colors: black, white
Wheel Size: 7″
Max Speed: 7 mph
Max Distance: 11-15 miles
Notable features: max weight 187 lbs, riding distance 11-15 miles, charging time 1-2 hours, remote control, LED headlights, UL 2272 Safety Certification, battery indicators, 30 degree climbing
---
Cho Power Sports Kids Hoverboard
If you want your child to stand out from all of the other hoverboards on the block, the Cho Power Sport features a cool new design for an affordable and perfectly kid sized self balancing scooter. While the design is sleeker and more modern than other brands, it is still a 6.5″ hoverboard which is great for kids and teens. It has a weight limit of 160 lbs, so some adults can ride it too. This is a street hoverboard, so it can only be ridden on smooth surfaces like sidewalks and streets.
One of the reasons the Power Sports hoverboard is so good for kids is it only has a max speed of 6.5 mph, so your child can't ride too fast. It also has a riding range of 10-15 miles, providing plenty of fun time between charges. You can easily tote your hoverboard around thanks to the built in carry handle. If you want to listen to music, use the built in Bluetooth speakers to play your faves. This is a great option for kids of any age.
Available colors: black, gold, purple, black numbers, blue numbers, pink numbers
Wheel Size: 6.5″
Max Speed: 6.5 mph
Max Distance: 10-15 miles
Rider Weight Range: up to 160lbs.
Charging Time: 2-3 hours
Notable features: UL 2272 Certified, front lights, wheel lights, Bluetooth speakers, easy carry handle, no slip foot pads, three month warranty
---
Sea Eagle Flash Lights Hoverboard
If you're looking for a hoverboard for kids with a little more pizzaz, check this out. Sea Eagle makes a "Flash Wheel" model that is made to be seen. It features LED headlights on the wheel bumpers and along the front of the hoverboard, but what really sets this model apart from the others is the lights on the wheels. These lights are super fun and also help your child stay visible when they're riding.
In addition to the fun lights, the Hoverheart also has built-in Bluetooth speakers, so your child can enjoy their favorite tunes while they ride. It also has all the required safety certifications and is made from fire-safe plastic. This model only goes up to 7.5 miles per hour, which is perfect for most kids.
Available colors: Black Chrome, Blue Chrome, Gold Chrome, Turquoise Chrome, Pink Chrome, Purple Chrome, Rosegold Chrome
Wheel Size: 6.5″
Max Speed: 7.5 mph
Max Distance: 10 miles
Notable features: UL 2272 Certified, min weight: 44 lbs., max weight: 264 lbs., Bluetooth speakers, LED headlights, wheel lights, bumper lights, 2-3 hour charge time, three month warranty
---
Segway Ninebot S Smart Self-Balancing Electric Scooter
Segway makes premium personal transporters that offer a ton of fun for all ages. In fact, the Segway Ninebot S is one of our favorite optons for adult riders and kids. The S comes in a smaller size, with a smaller pricetag than the S Plus. While the design isn't great for doing tricks on, it's perfect for riding around and easier to operate than other board-like hoverboards. The big thing you'll notice that's different about the Segway Ninebot S is the kneebar. This makes riding it easier, as it helps you steer and maneuver the hoverboard.
This model is easy to ride on the sidewalk or even the road–and it even includes taillights for increased visibility. Another feature that sets it apart from the other hoverboards for kids is the mobile app. This free app allows you to lock the transporter, update the firmware, diagnose problems, track ride statistics, and customize the LED lights. It also has a guide to help you learn to ride it.
We highly recommend this model if you're looking for something everyone in the family can ride (including adults!).
Available colors: black, white, red
Wheel Size: 10.5″
Max Speed: 10 mph
Max Distance: 14 miles
Notable features: 1600 watt dual motor engine, padded kneebar for precision steering, can carry up to 220 lbs., aircraft-grade magnesium alloy frame, Bluetooth mobile app, customizable LED safety lights, anti-theft security alarm
---
Frequently Asked Questions About the Best Hoverboards For Kids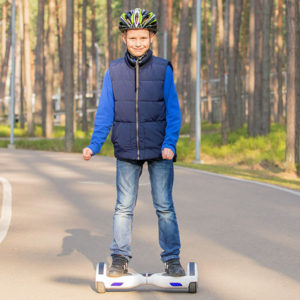 Are these hoverboards safe? In 2015 and early 2016 a number of hoverboards caught fire due to faulty batteries. The hoverboards that were involved have since been recalled and are no longer on sale. The hoverboards that you can buy today come are re-engineered with UL certified batteries that are now safe and tested for quality.
How old should a child be before they can ride a hoverboard? Most of the best kid hoverboards are designed to support riders that are at least 40 lbs. Usually, that is about age five and up, though some four-year-olds may meet that weight requirement. Even manufacturers of 4.5″ hoverboards recommend riders be at least 6 years or older to ride, and their hoverboard is one of the best ones for kids. Our recommendation for parents is to take into consideration several factors before you buy a hoverboard for your child. Obviously, weight is important so they can safely maneuver the board. I would also take into consideration coordination and balance. If your kid loves rollerskating, skateboarding, or bike riding and is able to master the skills to do those types of activities successfully and enjoys them, they will probably love riding a hoverboard. If your kid is not outdoorsy and has poor coordination or balance, a hoverboard may be tricky for them to learn and you may want to start them with a safe hoverboard alternative.
What is the weight limit on these hoverboards for kids? Can adults use them too? The weight limit on kids hoverboards varies from model to model but it's not uncommon for children's hoverboards to allow users up to 220 or even 260 pounds. Many of them have minimum weights as well, usually 40 lbs. so keep that in mind if your child is on the smaller side. If you want to buy a hoverboard that the whole family can enjoy, make sure to pay attention to the minimum and maximum weight limits before you buy.
Do children need to wear safety gear while riding a hoverboard? Yes! Proper safety gear is essential for any hoverboard rider, especially kids. When they first learn to ride, they will probably fall off and get a few scrapes and bumps. Just like with bikes, skateboards, and roller skates, helmets and pads are essential to prevent injuries. Even when your kid becomes a hoverboard pro, there's still a chance of accidents, especially if they ride in areas with other riders, skaters, and cyclists. A hoverboard helmet is the absolute minimum safety gear a kid should wear when they ride. You should also consider buying safety pads and safety lights for your kid. In addition to personal protective gear, you should also monitor your children while they're riding to help them avoid dangerous situations and also assist them if they have any problems.
Check out our full article on hoverboard safety gear for kids.
Do these hoverboards for kids have speakers? Some models of glideboards include built-in speakers that can be controlled by a person's iPhone or Android device wirelessly with Bluetooth to play music. Not every model has these built-in speakers however so if they're important to you, you'll have to double-check each model you consider to make sure they have it.
What happens when the hoverboards run out of battery? Hoverboard batteries last different amounts of time depending on various different factors like use, speed, whether or not it's on a hill, etc. Some hoverboards have low battery indicators to let the user know when they're running low on battery. Most hoverboards also have a safe-stop mechanism that will stop the hoverboard in a balanced rolling stop when power is extremely low to prevent a fall.
---
Need more gift ideas for your children or grandchildren? Check out these articles:
Weather gifts for kids
Space and astronomy gifts for kids
Gardening gifts for kids
Gifts for aspiring writers
Gifts for aspiring artists
Best hoverboards for kids
Activity trackers for kids
The best action cameras for kids