Hoverboards can be expensive, even sometimes retailing for more than $1,000 in some cases. Luckily, a number of manufacturers are now making cheap hoverboards that sell for as little as a few hundred dollars. As with most things, you get what you pay for when you're buying cheap hoverboards. But if you're new to hoverboards or on a budget, these can make a great purchase or gift for newbies. You can always upgrade to a fancier model later.
Because of the new safety requirements put in place to sell hoverboards in the USA in 2016, it is now extremely rare to find a hoverboard priced under $200. Instead, now cheap models are those you can find under $300. If you can find something under $250, you're lucky. Keep that in mind as you browse these cheap hoverboard options.
Here are some of the best reviewed cheap hoverboards:
Cheap Hoverboards for Sale
SURFUS Hoverboard
The SURFUS is the most expensive balance board on this list, but it has a lot of features at a great price. With 6.5″ rubber and aluminum alloy wheels, this hoverboard is the perfect size for kids, teenagers, or adults–so it's great if you're shopping for a cheap hoverboard for the family. The UL certified lithium battery comes features power indicator lights on the hoverboard so you can easily see when you need to recharge. The charging time is longer than some other boards (about 2-3 hours), but the riding distance is up to 12 miles on a single charge.
The self-balancing scooter's body features LED safety lights and the back lights blink when you turn–just a like a turn signal. The Surfus features an ergonomic design that's easy to ride and gives you a smooth experience. The non-skid footpads give you a steady grip that makes even newbies feel secure as they learn to ride a hoverboard. This is a great option for riders at any level looking for a sturdy board at an affordable price.
Available colors: black, red, white, blue
Wheel Size: 6.5″
Max Speed: 6.2 mph
Max Distance: 12 miles
Notable features: UL safety certified, waterproof, LED safety lights, battery indicator life, rubber tires, 2-3 hour charge time, min weight 44 lbs, max weight 220 lbs, water resistant.
---
---
XtremepowerUS Self Balancing Scooter
Offering one of the cheapest hoverboards available on Amazon right now, XtremePowerUs makes a 2 wheel scooter with UL certified batteries that also comes with a carrying case. With the lower price, this is more of a bare bones model. it doesn't feature many of the flashy extras that seem to be standard on more expensive hoverboards.
The low price means it's a great buy for teens or new hoverboard riders who just want to give it a try. The riding range and speed is great for casual riding in the park or neighborhood or even for a couple hours of playing Pokemon Go. I would not recommend this model for off-road riding–stick to sidewalks and streets.
Available colors: white, black chrome, pink, blue, rose gold, gold, green
Max Speed: 8 mph
Max Distance: 9 -12 miles
Notable features: Max weight: 200 lbs, good for riders 12 years and up, 2-3 hour charging time, free carry case, wall charger included, lithium ion battery
---
Koo Self Balancing Hoverboard
Another affordable hoverboard option is the Koo self-balancing personal transporter. This is a great option for adults or teenagers who are looking for a cheap hoverboard and don't need any fancy features. It features most of the standard hoverboard add ons like LED safety lights and an included power adapter.
This hoverboard features 6.5″ wheels and is only 22 lbs. It's great for college students looking for a convenient way to ride around campus or Pokemon Go players who ride in the park. The lithium battery has met the UL2272 safety certification standards and fully charges in 1-2 hours. If you don't have enough time for a full charge, the manufacturer says the battery charges to 80% in only 30 minutes. It also has low battery protection, so the unit slows down before the battery dies. The Koo hoverboard is a great option for anyone looking for a cheap 2 wheel personal transporter.
Available colors: blue, gold, black, pink, red, chrome gold
Wheel Size: 6.5″
Max Speed: 6 mph
Max Distance: 10 miles
Notable features: UL2272 Safety Certification, LED lights, 1-2 hour charging time, max load 220 lbs, Low Battery Protection
---
CHIC Eyourlife Electric Self Balancing Scooter
If you don't mind spending a little more money to get some extra features, you should check out this cheap hoverboard from Chic Eyourlife. In addition to the safety certifications and LED lights for night riding, this glideboard is also waterproof, making it safe to ride on wet grass or pavement or during a light rain. It's also good for riding on pavement or gravel. The manufacturer also performs drop tests and a 10 ton crunch test to make sure the body and the shatter-resistant polymer frame of the hoverboard is sturdy and safe.
This hoverboard's size is great for kids, teenagers, and adults. The Eyourlife self-balancing scooter also comes with a 1 year warranty in case you have any issues with your new purchase.
Available colors: red, black
Wheel Size: 6.5″
Max Speed: 10 mph
Max Distance: 2 hour ride time
Notable features: 3 Safety Certifications, LED safety lights, no-skid footpads, max weight 220 lbs., ride time of 120 minutes, waterproof, 1 year warranty, battery power-off protection.
---
Refurbished Monorover R2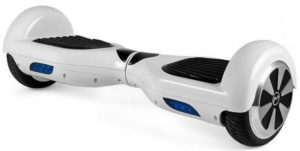 Prices on hoverboards are currently extremely competitive, so it's hard to find a deal on new glideboards. If you're willing to buy a refurbished model you can save a lot of money. Monorover offers refurbished versions of their R2 self-balancing scooter. These are units that were returned to Monorover and repaired in-house by their technicians. This is a full overhaul which involves the replacement of any internal parts that do not reach the inspection criteria.
There are some downsides to these refurbished hoverboards. They may have aesthetic damage on the exterior of the unit. They also do not come with any sort of warranty.
Pricing at the time of this writing is $199. If you buy multiple at once you can save even more. This is the perfect option if you're looking to buy hoverboards for the whole family.
Available colors: black, red, white
Notable features: blue LED lights, 9-12 mile ride range, rider weight limit of 225 lbs, charge time of 2-3 hours, comes with an instruction manual
---
Did you find the cheap hoverboard of your dreams? Don't forget to get some
hoverboard safety gear
and
hoverboard accessories
to enhance your ride.
Still not sure which hoverboard to get? Check out our hoverboard comparison chart and safe hoverboards for sale.