Here are some cool hoverboard accessories to help you deck out your hoverboard or glideboard.
Hoverboard Backpack Case (Check reviews & prices
)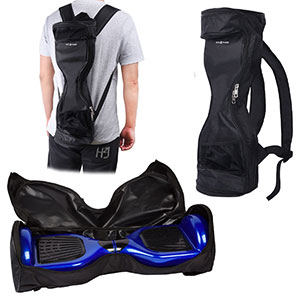 Hoverboards are often somewhat heavy, weighing 20 pounds or more, so that can be uncomfortable to carry around for long periods of time. This clever hoverboard case solves that problem by adding a pair of backpack straps so you can wear it like a backpack. It also has a mesh pocket for your hoverboard's charging cable and a carrying handle if you want to carry your hoverboard like a briefcase instead of wearing it. This hoverboard backpack case can accommodate hoverboards of up to 6.5 inch wheel diameters (if you have a hoverboard with 8 inch wheels you'll need this larger hoverboard bag).
Protective & Decorative Hoverboard Decals (Check reviews & prices
)
One drawback of many hoverboard models on the market right now is they look very similar to one another. The easiest way to differentiate your hoverboard from all the others is by getting one of the more than 100 hoverboard decal kits that are now available. For an affordable price you can get some really slick hoverboard sticker designs that can make your board stand out from the rest.
Check out more hoverboard decals here
.
Nighttime Safety Shoe Lights for Hoverboard Riders (Check reviews & prices
)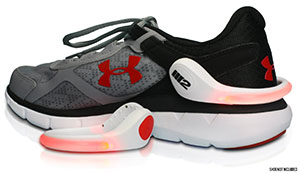 Some hoverboards have LED lights on them for night time safety and visibility, but not all of them. And some hoverboards that do have lights only have lights on their front, not the back of the unit. These slick safety lights clip to the rear of your sneakers and allow you to be visible from cars approaching behind you. They illuminate either a solid red (like a car's tail lights) or a flashing strobe red glow. (Find more hoverboard safety gear here)
Personal Protective Gear
Safety is extremely important when you're riding a hoverboard. Even though you may not think of safety gear as accessories for your new hoverboard, you should be. We have detailed articles about each type of protective gear:
---
---